A2L, A3 Refrigerant
Gases detectable

Liner response to the refrigerants concentrations of 1,000 - 10,000 ppm.

Long lifetime

Our semiconductor type sensors are durable and sensitive. And their life time is 15 years.

Preventing
false detection

Internal filters minimize the bad influence by miscellaneous gases.

Easy Integration

Small and lightweight.

Water Resistant Design

Our module has passed the environmental durability test under high humidity.
Gas sensor modules for refrigerant leak detection
FIS5084-01NC
FIS5084-01C1
Image

without housing
with housing
Gas Sensor
Semiconductor Type
Taget Gas
R32, R454B, R1234yf, etc.
Gas Concentration Range
1,000~10,000ppm
Operation Temperature
-25 ~ 60℃(no dew condensation)
Supply Shortage
DC 5.0V + / -4%
Power Consumption
40mA(max. 81mA)
Output
UART、Open collector
Water Resistant
Yes
Other target gases
R290, R600, etc.
Product Features
Our refrigerant leak detection modules use semiconductor gas sensors. Our sensors currently satisfy the performance standards established by the Japan Refrigeration and Air Conditioning Industry Association [JRA4068:2021 (Performance 3)], as well as the internationally recognized IEC60335-2-40 Edition 6.0. Moreover, we are in the process of developing products that meet the IEC60335-2-40 Edition 7.0 and UL60335-2-40 Edition 4.0 standards.
Target Gases

Our sensors can detect A2L refrigerants including R32, R454B, and others, as well as A3 refrigerants such as R290 and R600. Our refrigerant sensors provide linear responses to refrigerant concentrations of 1,000 – 10,000 ppm, and also feature temperature compensation functions. Our modules maintain their sensitivity within an operating temperature range of -25℃ to +60℃. Sensitivity of the semiconductor gas sensors to various gases is presented in this log-log graph, which shows changes in sensor resistance (RS) values at different gas concentrations. As shown in the graph, sensor resistance decreases as refrigerant gas concentration increases.

Sensitivity dependance of gas sensor

Superior Durability

Semiconductor gas sensors make calibration unnecessary, and these modules can be used for up to 15 years without replacing the sensors. These sensors can accurately detect refrigerants even following hydrogen and methane gas exposure tests.

Internal filters minimize the effects of gas interference

Internal filters reduce the effects caused by interfering gases, such as ethyl alcohol and silicon gas, which are present in the ambient environment where the sensors are used. This minimizes gas interference effects and allows for selective detection of refrigerants such as Freon replacements (HFCs).

Internal filters

Easy Integration

Our modules are pre-adjusted using a target gas (R32), so they are ready to be installed in other products without requiring time-consuming gas adjustment. These small, lightweight modules produce output signals that are easy to extract, allowing for convenient integration into various devices. They interface with air conditioning units via a connector, which provides superior ease of maintenance and makes regular replacement convenient.

Sensor Module Diagram

Water Resistant Design

We offer modules with water resistant coating on substrate and passed environmental durability test under high humidity.These modules can be installed in refrigeration and air conditioning systems used in environments where condensation is likely, such as outdoor units and refrigerators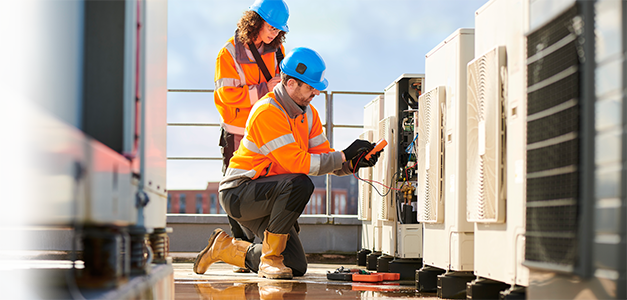 Nissha FIS is also developing a sensor that complies with UL standards.
Introducing gas sensor application examples in various fields

Product category
Gas sensor
Gas sensor module
Gas detecting device
Gas measuring deivce