An idea to make recycled plastic more appealing
This is a proposal to maximize the appeal of recycled plastic by using IMD. Using the IMD method on recycled plastic, we can not only achieve high-precision designs by freely choosing matte or glossy finishes in the same way as for virgin plastic, we can ensure reliability by applying a hard coat to the topmost surface. Through Recycled Plastic x IMD, we can balance both design and reduced environmental impact, achieving products with new added values that were previously impossible.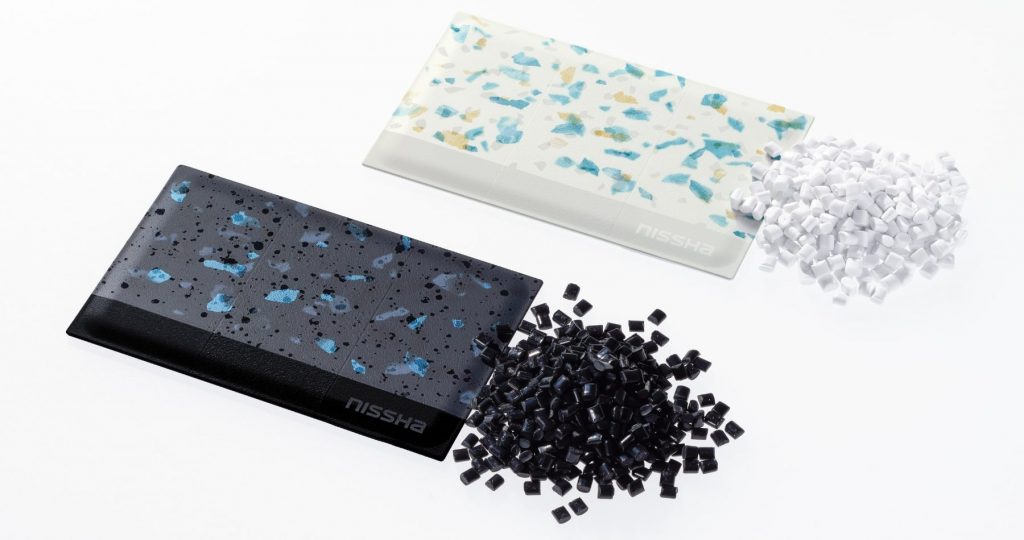 Recycled plastic: increasingly popular, but has issues
In recent years, companies are judged (and closely measured) not only by the performance of their products, but how they are responding to environmental, social and corporate governance (ESG)issues. One topic in particular of much interest is recycled plastic in IMD. Using recycled plastics is a concern of our customers because of potential color, material and finish (CMF) limitations and stability. In addition to CMF concerns, there are questions about physical and mechanical requirements (like chemical resistance, temperature, abrasion) of the components when using recycled plastics.
Don't overlook our eco-friendly samples
The samples we have available now draw fully on the delicate CMF expressions possible through gravure printing. And by combining them with our proprietary partial matte, we can reproduce designs that suggest recycled plastic, like marble or terrazzo. We also offer IMD samples made from 97% PCR (Post Consumer Recycle). We hope you will consider Recycled Plastic x IMD as one of the best methods to reproduce eco-friendly designs using sustainable materials.
We can create designs to your requirements, so if you are interested, please contact us through our Inquiries form.