IMD/ IML (Simultaneous injection-decoration system)
IMD and IML are In-mold Decoration technologies which can add beautiful decoration and functional layers onto the plastic surfaces.
IMD and IML are used in a wide range of industries such as automotive interiors, mobile devices and home appliances. We can provide unique features on your product surface which cannot not be added by conventional process like painting, silk printing or pad printing. Our technology contributes for creating high valued surface on your product.
Design & Electrical Function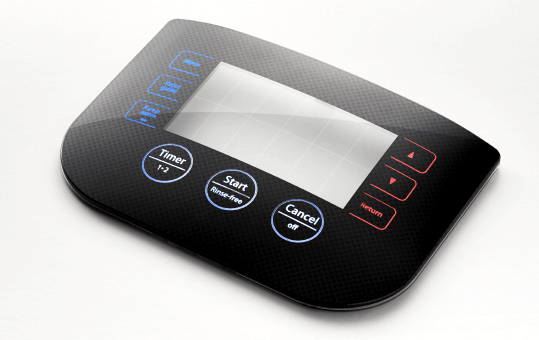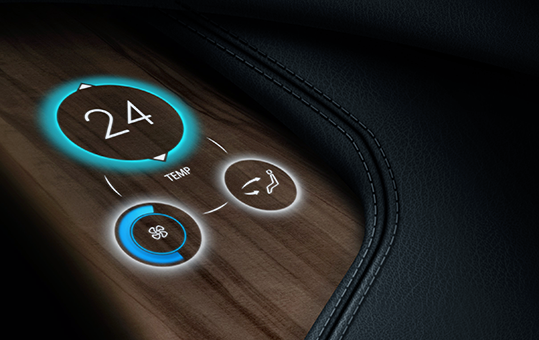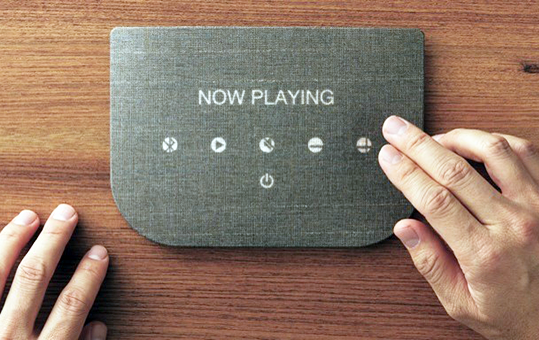 IMD and IML can add variety of designs and finishes onto your product surface.
On top of that, you can even add electric functions such as touch sensors / buttons and LED's to your product surface with NISSHA IME solution. This means that both of aesthetic design and electric function can be integrated into a single product that NISSHA provides.
IMD ( In Mold Decoration )
IMD = In Mold Decoration is the technology to apply versatile CMF finish onto 3D geometry plastic surface during injection molding.
This technology widely used in consumer electronics, appliance, automotive and medical/healthcare devices, and supports customer to achieve unique CMF finish on mechanical parts with high quality and productivity.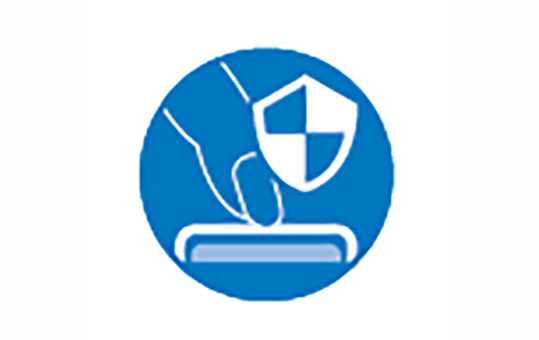 Hard coat protection
Nissha's UV cured hard coat layer protect surface against scratch, chemical, UV irradiation without secondary process.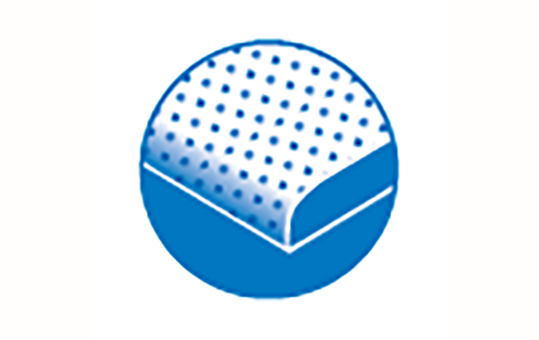 3Decoration on 3D geometry
Since decoration is applied at the same time of injection molding process, surface decoration follow 3D geometry.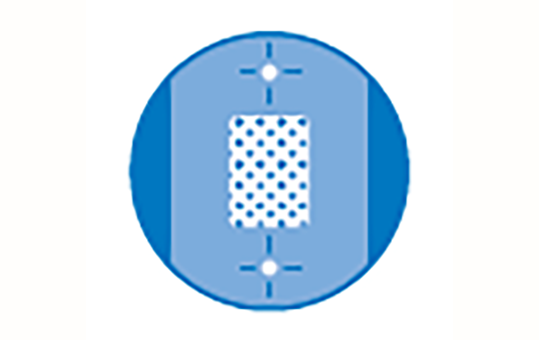 Precise registration
Nissha foil feeding system contorlled by optical sensor enables precise registration within+/-0.25mm.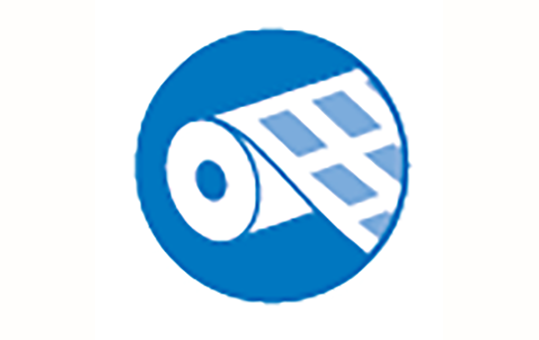 High productivity by roll to roll system
Film printing and IMD molding is managed by roll to roll system. Its production is automated and efficient.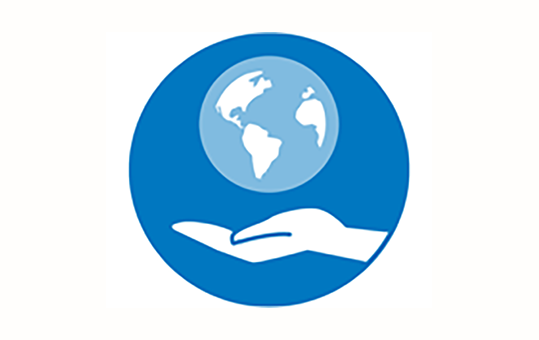 Environmental friendly
Thin IML ink is only applied to the area where decoration is needed. Volatile organic compounds can be reduced.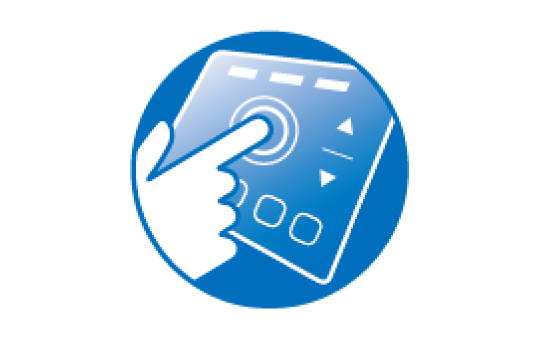 work well with capacitive touch sensor
NISSHA's IMD works well with capacitive touch sensor, no harm on its sensitivity
Process Flow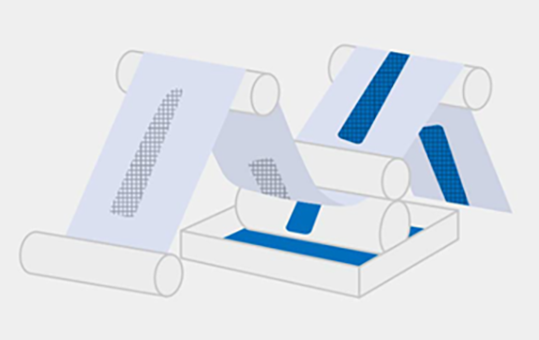 Gravure printing
IMD film is printed by high speed gravure printing process.
7 layers of graphic color (max) plus also hard coat layer and adhesion layer are applied during this printing process.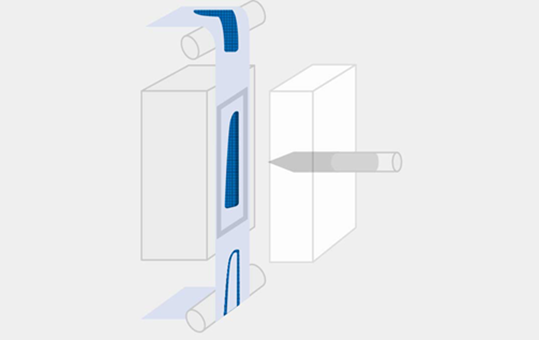 IMD molding
A foil feeder is installed on the injection machine. IMD film is then fed between the injection molding tool. Optical sensors in the feeder adjust registration of the film, and the ink printed on the film is transferred onto the plastic by the heat and pressure of injection molding.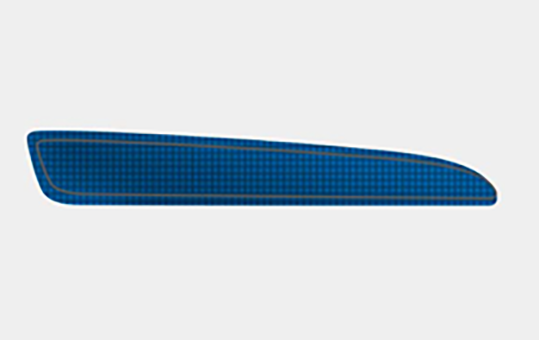 Product
After injection molding, you have complete decorated products. No secondary process is necessary. (only UV curing for hard coat)
Infinite Design Possibilities with Film Decoration
You can achieve various aethetic effects beyond conventional painting,such as multiple colors, patterns and graphic, even tactile feeling.
Versatility of CMF design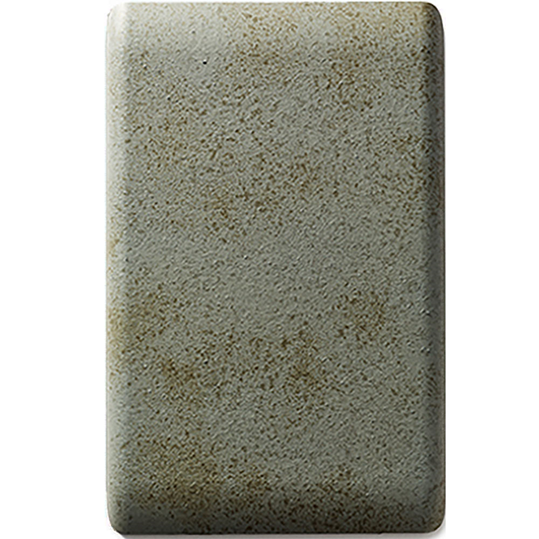 Depth / Multi layer effect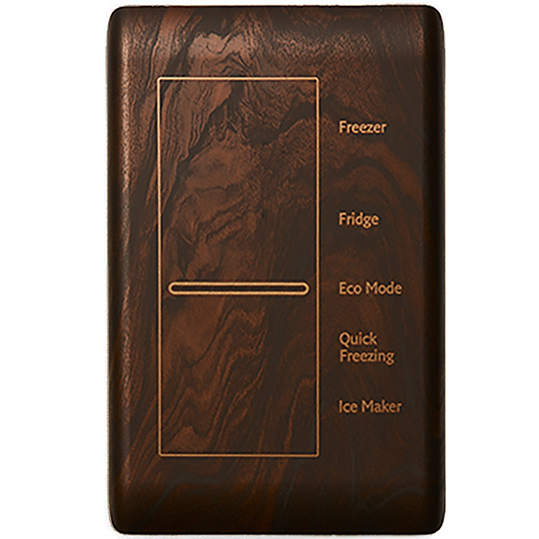 Hidden til lit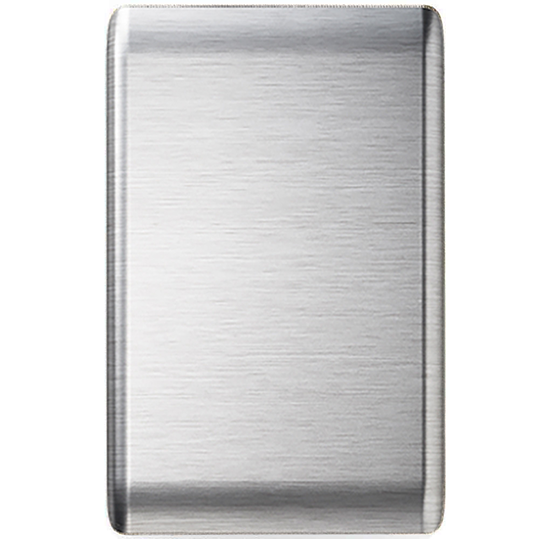 Brushed Hair Line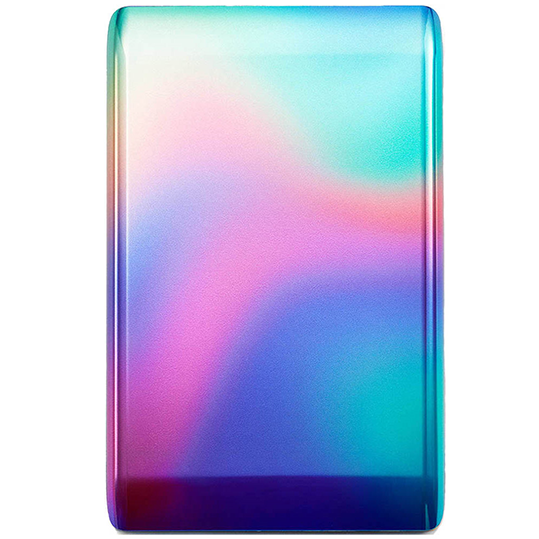 Gradation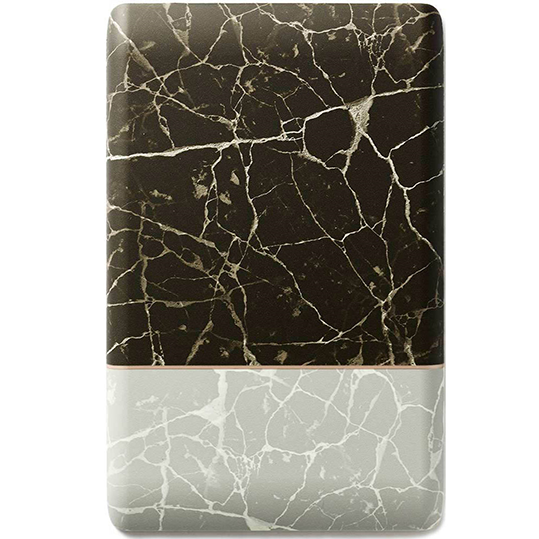 Marble stone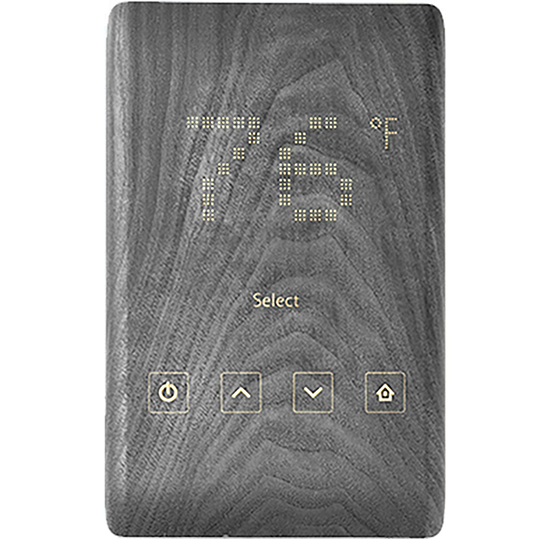 Wood grain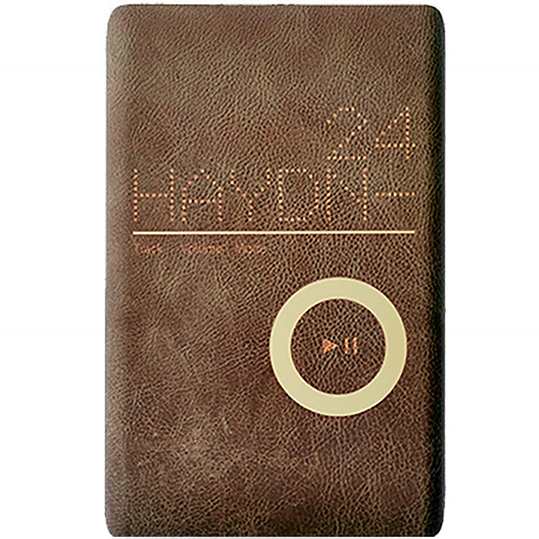 Leather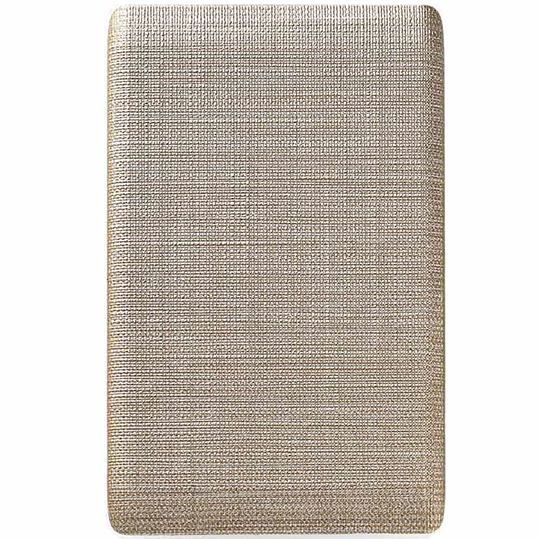 Fabric texture
Pick Up!
●

Tactile Feeling

You can have tactile feeling on plastic surface.
"Baby Touch" i(like baby's soft skin) and "Rubber Touch" add comfortable touch of feeling.
May expect anti-slip effect.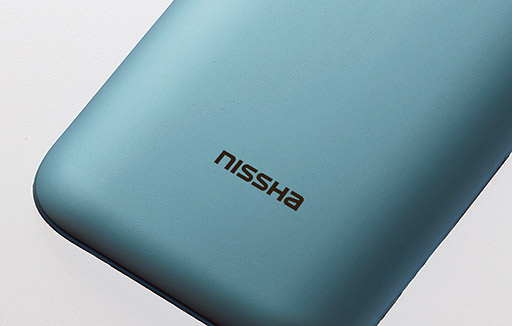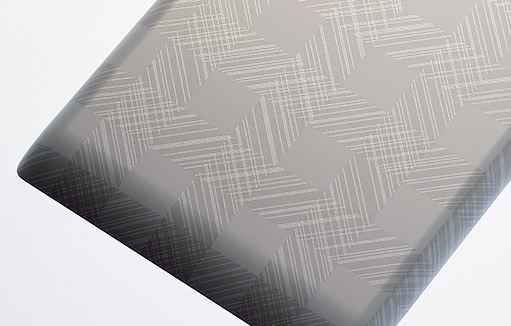 ●

Hidden-lit Design (Dead Front)

We can provide Hidden-lit design by patterned foil + clear resin.
You can experience dead front design by switching ON/OFF mode.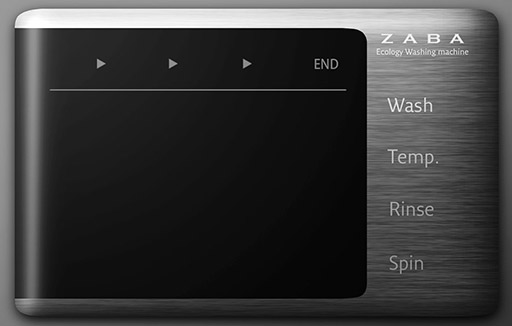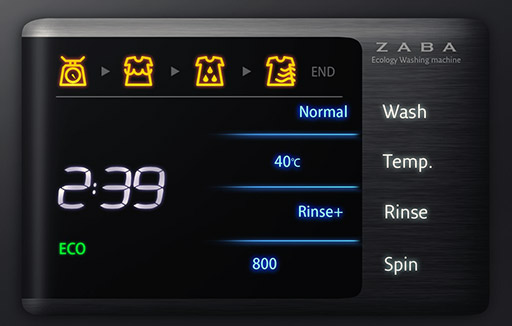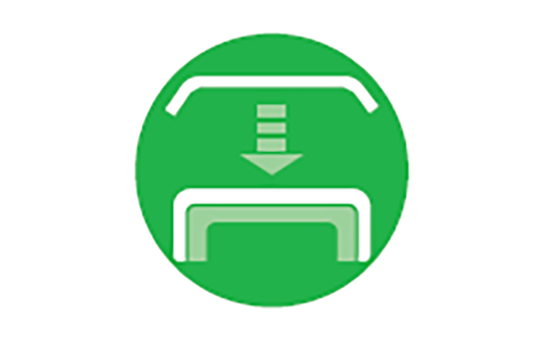 Complex curved geometry available
Dedicated forming process prior to injection molding forms IML film deep draw and complicated geometry.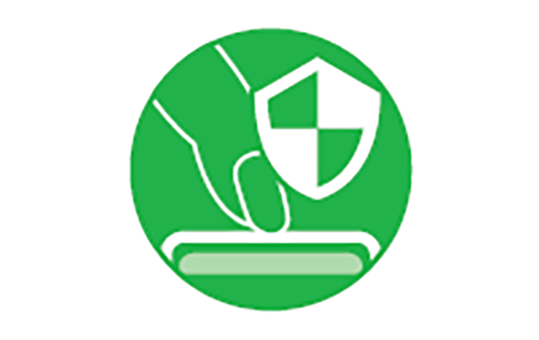 IML film layer protection
Graphic layer is fully protected from abrasion by IML film. Additional functionalities like UV or chemical resistance is available by special films.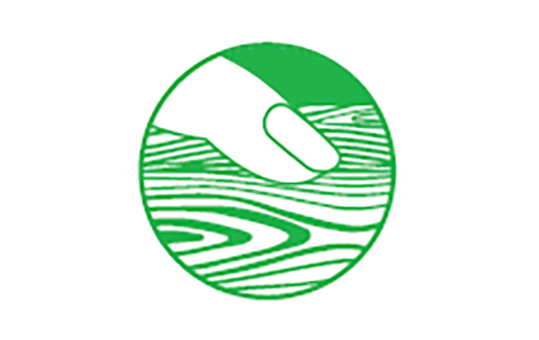 Environmental friendly
Thin IML ink is only applied to the area where decoration is needed. Volatile organic compounds can be reduced.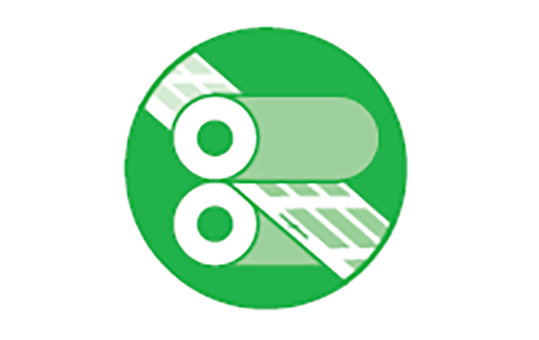 Production lot flexibility
Nissha range of printing methods allows flexible manufacturing. Silk-screen printing for lower volume production, Gravure printing for higher volume production.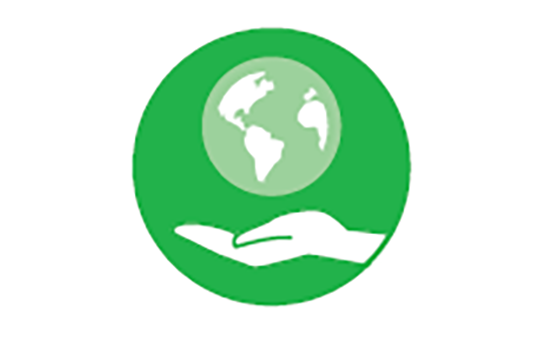 Versatile surface finish
Unique coating and printing technology can create excellent natural finishes including tactile texture, effects like stainless steel, natural wood, and fabric-like patterns.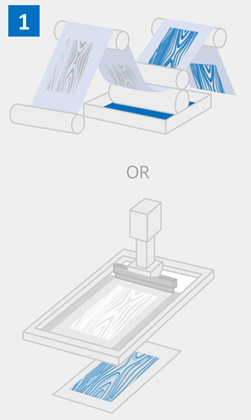 Printing
For IML film, Nissha has two printing methods – Gravure printing and Silk screen printing. Depending on design specification and production volume, the best printing method is chosen.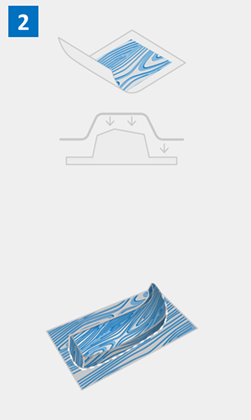 Forming and Trimming
IML film is set in the forming machine and formed into the geometry of the part's shape by high heat or high pressure. Then the periphery film is trimmed by die cut machine or laser.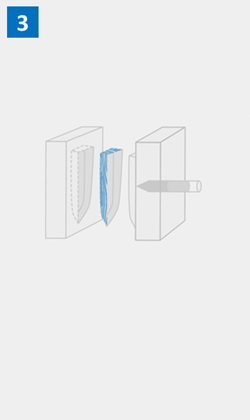 IML molding
Formed IML film is inserted into the injection molding tool and combined with resin.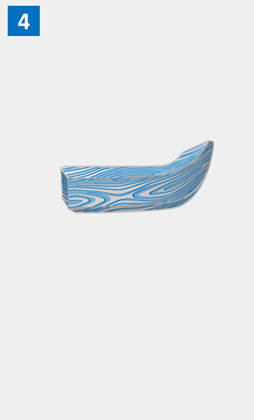 Product
After injection molding, the result is finished decorated products.