Thin and high-performance film-type touch screen
NISSHA's touch screen is a film type capacitive touch screen.
When a finger touches the surface of the panel, the capacitance (charge) between the transparent electrodes changes and touch position is recognized
NISSHA's unique photo etching technology realizes a thin, highly transparent, high-performance capacitive touch screen
Thinner touch screen module by double-sided etching
In a general capacitive touch screen, a sensor module is formed by bonding two transparent electrode substrates for X-axis electrodes and Y-axis electrodes with an adhesive.There were problems with this manufacturing method, in which two electrode substrates and an adhesive were laminated, such as "Thickness increases" "Optical characteristics deteriorate" " Difficulty to improve pattern positional accuracy."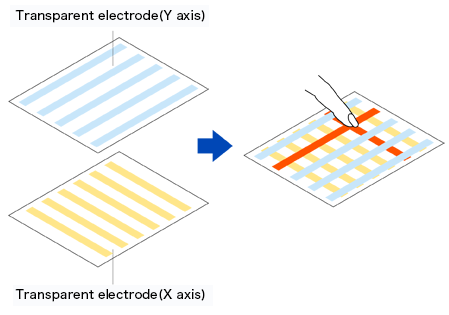 NISSHA has introduced a process of photo-etching a metal thin film formed on both sides of a film substrate, and has developed a technology to consolidate sensor patterns on a very thin film with a thickness of 55 μm. The touch screen module has been made thinner.
Furthermore, the adoption of photo-etching processing makes it possible to configure minute sensor patterns with extremely high positional accuracy.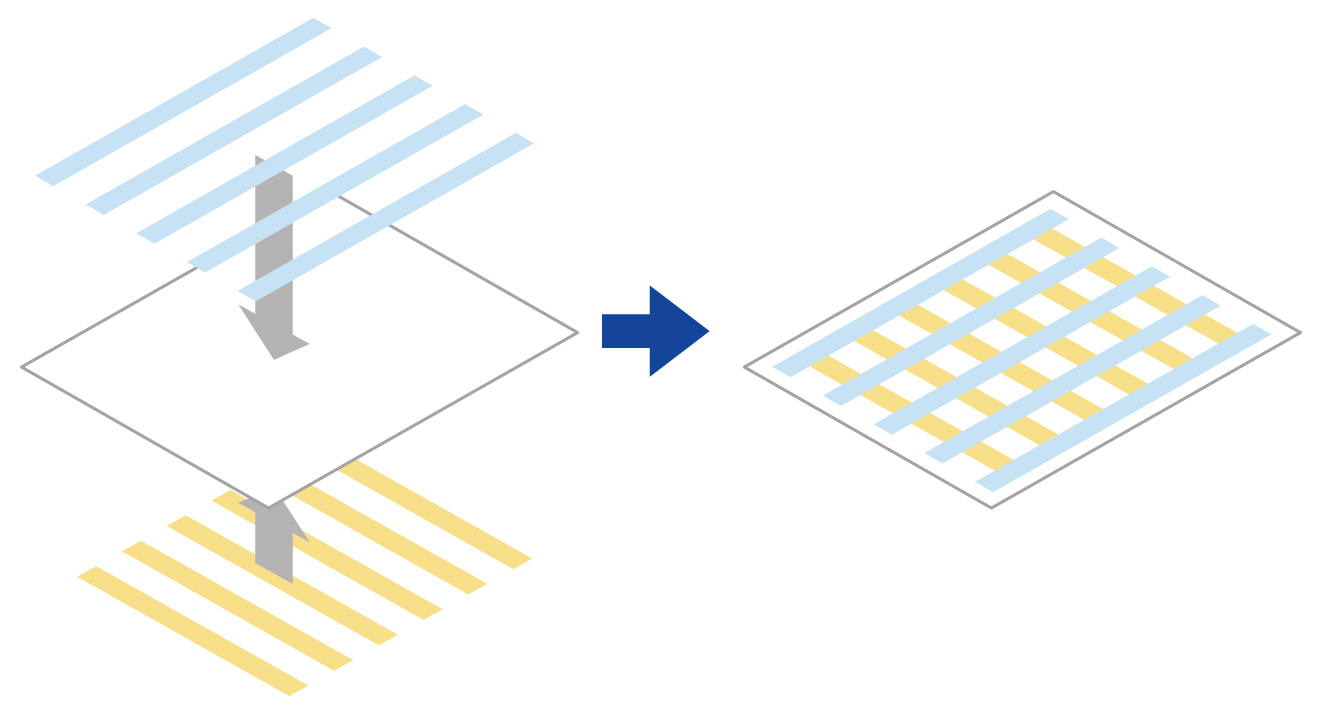 Comparison of layer structure between general touch screen module and NISSHA touch screen module

COP film substrate with excellent optical properties
Fine wiring by simultaneous photo-etching of ITO / Cu
NISSHA's photo etching process patterns the transparent electrode (ITO) and the lead wiring (Cu) in one process. As a result, it is possible to align the ITO electrode and the Cu wiring with high positional accuracy. Furthermore, by drawing a fine pattern of Line / Space = 10/10 μm, a narrower frame that minimizes the area of ​​the lead-out wiring is realized. The sensor area has been extended to the edge of the display.
Module integrated with cover panel and LCD